Brief review
DivX2Mp4 - small utility for converting AVI-files of a format MPEG4, compressed XviD, 3ivx to DivX 4&5 and back, Microsoft MPEG4 codec in a format DivX or Angel Potion and back. At converting in an AVI-files is only replaced the heading without any changes data.






DivX2Mp4 has Multilanguage Support (English, Russian) via System Menu: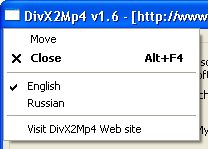 Purpose
You can convert video file from one of another format in these cases:
If your hardware MPEG4 DVD-player don't play a MPEG-4 video and reports "unknown format or codec". Convert XviD to DivX, for example, and try again.
If your video is not play by the installed codecs with message "unknown codec".
If your audio is not synchronized to the video when playing.
Depending on that you want to receive at compression of a video (better image or smaller size), you can for one fragments of film use one codec (DivX Low Motion), and for others another (DivX Fast Motion). Use DivX2Mp4 for convert to one, then pasting these two files in one file.
DivX2Mp4 can convert between DivX, XviD, 3ivX, Angel Potion and Microsoft MPEG4.