| | |
| --- | --- |
| Other programs and utilities | |
| | |
| --- | --- |
| Video DeNoise for VirtualDub | 15.11.2005 |
Brief review of Video DeNoise filters
The filters for clearing the video of noise for VirtualDub and Adobe Premier. Its main task is suppression of noise as small bright lines, red or blue color, less often green. Because of discontinuity of a magnetic layer of VHS-tape such lines always are present at the image.

The filter analyses each frame irrespective of others, due to what it brings in additional distortions in comparison with dynamic filters (practically there is a loss of clearness in comparison with the operation blur). In aggregate with high accuracy of definition of noise the given filter, probably, is the leader among similar filters for VirtualDub. Is especially convenient at coding in MPEG4 or DivX, since even after deleting small noise the size of the encoded file decreases.
As the filter relieves from interlacing and the additional filter is not required.

The level cut of noise can be regulated for any of color components. The filter is optimized for processors with support MMX, which allows making reduction of noise in real-time mode.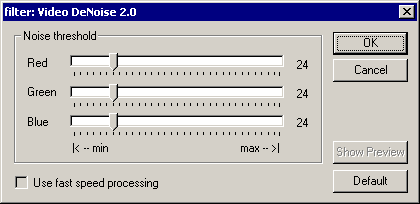 System Requirements
Pentium 100 MHz, 32 Mb
Windows 95 or later
VirtualDub 1.2 or later
Install
Copy vdn.vdf into the PLUGINS\ directory in the VirtualDub program directory. The filter will then automatically load when the main program starts.
Examples
| | |
| --- | --- |
| Before usage the filter | After usage the filter |
| Before usage the filter | After usage the filter |
Download
LICENSE: This program is distributed in the hope that it will be useful, but WITHOUT ANY WARRANTY; without even the implied warranty of MERCHANTABILITY or FITNESS FOR A PARTICULAR PURPOSE.
Size
Link

Video DeNoise 0.5

(without automatic DeInterlace, without MMX-mode)
12 Kb
Download

Video DeNoise 1.2

18 Kb
Download

Video DeNoise 2.0

20 Kb
Download
All mentioned Trademarks and Copyrights belong to their respective owners.
© 2020 Rising Research. All rights reserved.