Contents

About

Help

Download
wbw115en.exe
Registration
FAQ
Links
Feedback




Other programs and utilities

Digital Video Repair
Small utility for repairing (fixing) AVI files.
DivX2Mp4
Small utility for converting AVI-files of a format MPEG4, compressed Microsoft MPEG4, DivX 3(4&5), Angel Potion, XviD and 3ivx.
Video DeNoise
The filter for clearing the video of noise for VirtualDub and Adobe Premiere.
Its main task is suppression of noise as small bright lines, red, blue or green colors.



Making of backup copy
Updated:
01.08.2000
Step 1. Run OS Backup Wizard. Double-click the icon on Desktop or click Start, point to Programs, and then click OS Backup Wizard.

Main window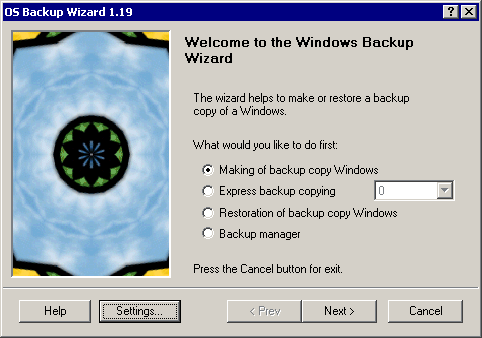 Step 2. Click "Making of backup copy Windows" and click the Next button.

Making of backup copy. General tab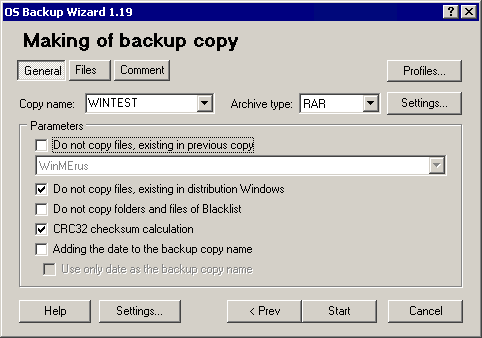 Step 3. General tab. Specify here:
Copy name.
Archiver type.
If this not first backup copy that check "Do not copy files, existing in previous copy".
You can not backup files, if they are in distribution Windows.
To not make copying temporary files check "Do not to copy files and files of Blacklist".
Check an option "CRC32 checksum calculation" for tracing the changed files.
Check options "Adding the date to the copy name" è "Use only date as the copy name" which automatically set copy name. Option "Adding the date to the copy name" at use the profile is always checked.
Making of backup copy. Files tab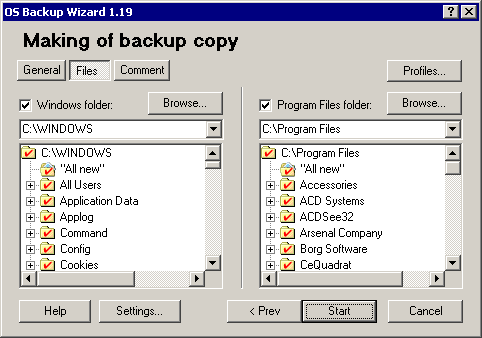 Step 4. Files tab. Choose folders and files for backup copying.

Making of backup copy. Comment tab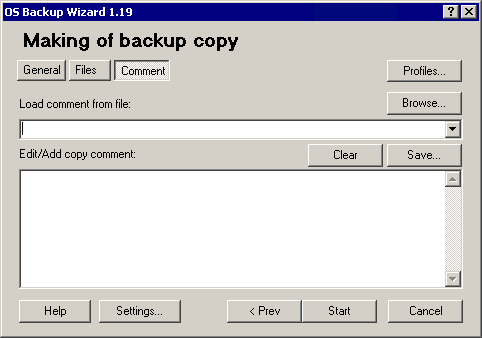 Step 5. Comment tab. Here you can write the comment or load it from file.
Step 6. Click the Finish button for begin backup copying.

Making of backup copy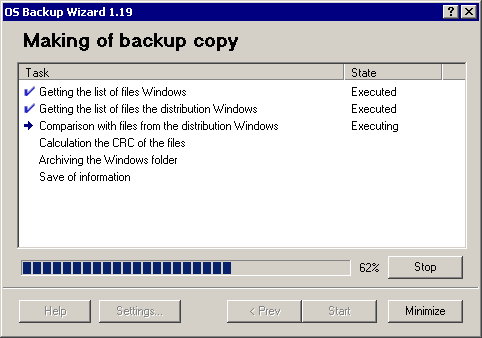 Step 7. If you want to break the process, click the Stop button.
Step 8. At the end of backup copying click the Close button for exit from program or the Back button for other actions.


© 2000-2012 Rising Research. All rights reserved.